Howard CM
Howard Capital Management Reviews - Weekly Update - August 28, 2023
Summer Vacation Is Over, Could September Be Hotter Than August?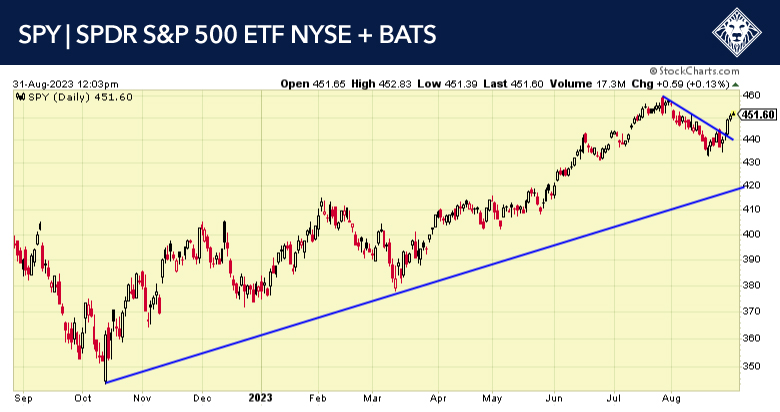 I know I sound like a broken record, but as long as the HCM-BuyLine® is positive, which it is, all pullbacks should be considered buyable. August is historically a lousy month for stocks. A lot of people are usually on vacation, and several other factors typically affect the markets in August. That said, September tends to have a much higher success rate, and the markets could be looking at a 2-4% move up in the indexes.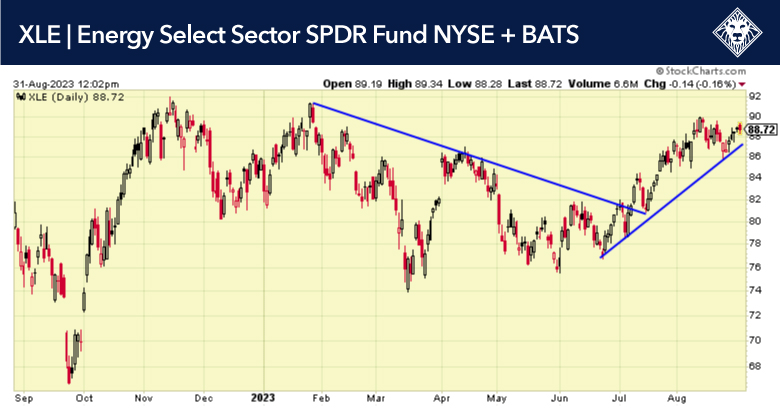 Energy likely can continue its gains on an absolute and relative basis, given evidence of the global market tightening up while US inventories are being drawn down rapidly.
In recent months, Saudi Arabia has announced supply cuts during the first week of every month, and announced previously that the cutback would extend into September. Given supplies from other producers like Iran and/or Venezuela might pick up, and Crude has languished during August, it might make sense for Saudi Arabia to announce a further supply cut.
ADP private payrolls increased 177,000 in August, the fewest in five months, and below the consensus estimate of 200,000. It was a dramatic step-down from the prior two months' gains which were more than 300,000 each. On the heels of a significant reduction in job openings in the previous month, this suggests a substantial moderation in labor demand and job creation. It implies continued downward pressure on wage growth which should help move inflation toward the Fed's target of 2.0% over time.
JOLTS show labor demand cooling Job openings fell 3.7% in July, down in six of the past seven months, to 8.8 million, the lowest level since March 2021, and below the consensus estimate of 9.5 million. This suggests a significant moderation in labor demand. There were notable reductions in professional and business services, health care and social assistance, and government sector jobs. Hires also fell, down 2.8% to 5.8 million, the fewest since January 2021. While layoffs were little changed and remained low, the quit rate dipped to 2.3%, its lowest level also since January 2021 and in line with the pre-pandemic rate. It suggests waning worker confidence in their job prospects, similar to the findings in the Consumer Confidence survey below.
"We aim to take emotion completely out of the equation. Trading with emotions, in our opinion, ruins long-term returns."
— VANCE HOWARD, CEO + PORTFOLIO MANAGER
Would you like to see the history of the BuyLine® in action? Is this a different approach than what you are taking with your current financial advisor? Could the BuyLine® impact your financial plan?
This communication is issued by Howard Capital Management, Inc. It is for informational purposes and is not an official confirmation of terms. It is not guaranteed as to the accuracy, nor is it a complete statement of the financial products or markets referred to. Opinions expressed are subject to change without notice. Howard Capital Management, Inc. may maintain long or short positions in the financial instruments referred to and may transact in them as principal or agent. Unless stated specifically otherwise, this is not a recommendation, offer or solicitation to buy or sell, and any prices or quotations contained herein are indicative only. To the extent permitted by law, Howard Capital Management, Inc. does not accept any liability arising from the use of this communication. Howard Capital Management is an SEC-registered investment advisor which only does business where it is properly registered or is otherwise exempt from registration. SEC registration does not constitute an endorsement of the firm by the Commission nor does it indicate that the advisor has attained a particular level of skill or ability. Past performance is no guarantee of future results.